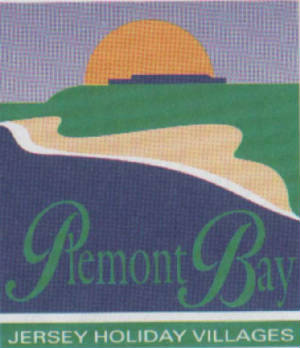 It was bought by Fred Pontin, who desperately wanted a holiday camp in the Channel Islands. His want came true when the States of Jersey (Local Council) agreed that having a Pontins Holiday Camp would be a fantastic boost for the Jerseys tourism industry. Fred demolished most of the original camp and constructed a new one within the footprints of the old. He constructed new chalets and a new entertainment building, and re-opened under the Pontins name in the 1960's. The camp ran like this up until the end of the 2000 season, when the owners of Pontins, then Scotish and Newcastle decided they wanted to invest thier money in the camps in the uk. Plemont, along with Portelet, closed and were left empty.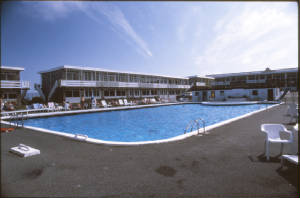 Currently, the future is unknown for the site. Demolition signs are up, though it looks like nothing will happen any time soon. Trevor Hemmings, the current site owner, had applied to build homes on the land, but this was turned down in 2008. The local government are under constant pressure from local organisations to purchase the site and return it to nature. However, Mr. Hemmings is believed to be currently drawing up plans for self catering apartments on the site, which should be accepted as the site is listed for tourism use. For the latest news from Plemont, keep an eye on the latest news page.

The first holiday camp to be built at Plemont was the Jersey Jubilee Holiday camp, built in the early 1920s. Constructed mostly of wood, it housed a very basic level of accommodation but, more importantly, gave people what they wanted, which was a hassle free, all inclusive holiday. When war broke out in 1939, the camp closed, and when Jersey became occupied by the Nazis it was taken over by them. The camp was used as a base for the forces, who damaged the camp to the extent that it was going to cost a fair amount of money to restore. The solution was obvious, the camp had to be put up for sale.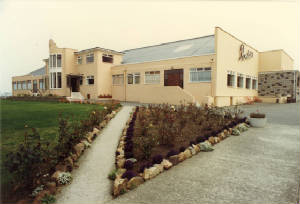 Plemont was the home to a few members of staff from when it was open up until recent years, when they left and boarded up their chalets. The site today is looking in pretty bad shape, broken windows,a few broken locks and rotting window frames and doors. Much of the equipment, such as footballs, tabe tennis tables etc are still there, though furniture and air conditioning systems have been taken out and moved to other sites.